Following President Biden's State of the Union Address in January, NTIA announced that it would take a strict approach to enforcing Build America, Buy America requirements for the Broadband Equity, Access, and Deployment (BEAD) Program. Now we're ready to provide more specifics.
The justification for a firm approach to enforcement is clear. Internet for All is a once-in-a-generation investment to expand and upgrade America's high-speed Internet networks, with $42.45 billion in funds from the BEAD program alone. Those American tax dollars should be used to buy products made in America and to create hundreds of thousands of American jobs.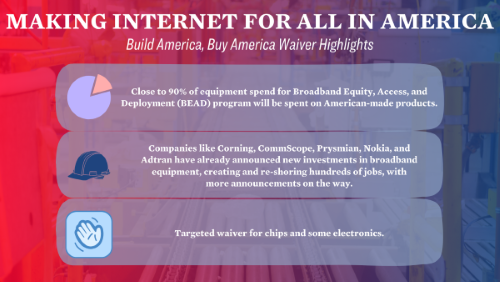 That's why NTIA is proposing a limited and targeted waiver of Build America, Buy America provisions for the BEAD Program that follows this strict approach to enforcing rules that protect and create American jobs.
Proposal: Majority of fiber broadband equipment will need to be made in the U.S, including optical fiber, fiber optic cable, key electronics, and enclosures. 
The policies recommended in this draft waiver will ensure that close to 90% of BEAD funding spent on equipment will be spent on equipment manufactured in the United States. The proposed waiver is the result of months of careful analysis of market conditions and sustained outreach to industry and stakeholders.
As a result of these efforts, NTIA established criteria to prioritize products targeted for onshoring:
Strategically important technologies, like those that ensure the security, integrity, and reliability of network data, should be produced in America.
If a product's domestic manufacturing line can be scaled quickly, it should be produced in America.
And if a product—like the fiber-optic cable so critical to deploying high-speed Internet networks in communities throughout the country—comprises a significant portion of the overall network spend, it should be produced in America.
There are, however, limited circumstances where a nonavailability waiver will be needed for certain pieces of broadband equipment. For example, as the Biden-Harris Administration and the Commerce Department are engaged in a whole-of-government effort to reinvigorate America's domestic semiconductor industry, NTIA acknowledges that some chips may not be available in time to meet BEAD Program construction timelines. We've proposed a limited nonavailability waiver to fit these unique dynamics.
Americans are already seeing the results of the Administration's aggressive approach to onshoring and domestic job creation.
Image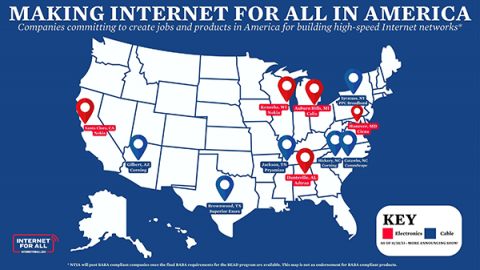 Several companies have already announced plans to open or expand fiber optic cable and electronics manufacturing operations here in America. Earlier this month Secretary Raimondo joined Vice President Harris in Kenosha, Wisconsin to celebrate Nokia's plans to expand its broadband electronics manufacturing, creating up to 200 new jobs. Just last week, Adtran, a telecom equipment manufacturer, announced an investment that will see expanded production of key broadband electronics at its Huntsville, Alabama facility and the creation of up to 300 new jobs.  These two companies are joined by fiber optic cable manufacturers like Corning, CommScope, and Prysmian who have all recently announced investments to make more fiber optic cable in the U.S.
The American companies who announced expansions are just the beginning. As 2023 turns to 2024, even more companies will expand production to meet the demand of Internet for All.
These announcements show that ensuring American tax dollars are leveraged to create American jobs works. That's why we're doubling down on our approach with today's proposed waiver.
What's Next?
Over the next 30 days, stakeholders will have an opportunity to comment on this proposal. After final publication, NTIA will continue to monitor implementation to ensure that we're creating jobs here at home and delivering affordable, reliable, high-speed Internet service to all Americans.
Interested stakeholders with questions are welcome to reach out to BABA@ntia.gov.